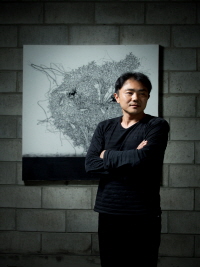 Ki Chang HAN, Dangrim Art Museum
Birth
1966, Seoul
Genre
Painting, Installation, Photography
Homepage
Expression of Life in Exchange for Pain - Trauma
In essence, the life of an artist determines his or her artistic language. The Mexican painter Frida Kahlo's work, so full of pain and despair, after all represents her private wounds. In this context, a proper understanding of the artistic world of Ki Chang Han requires looking back to his personal history. During middle school, influenced by a teacher who had majored in Asian paintings, the artist naturally began to learn the traditional techniques of ink and wash painting on rice paper. He was thereby motivated to study Asian painting in college in the late 1980's, but soon desired new expressive techniques in his painting. In particular, he came to realize the limitations placed on traditional ink painting by its conventional materials. To an artist working to overcome such conventional limitations and seek new ways of painting, the choice to study overseas seemed like the optimal course of action.

However, in 1992 when he was near ready to leave for the United States, he was in a tragic automobile accident while driving on a snowy road. That crash completely changed not only his life, but his work as well. In his earlier work, Han had employed fresco, a formative technique used in Western wall painting, to reveal a unique artistic world that featured diverse objects including figurative subjects. His artwork had experimented with new materials and techniques in the form of fresco, but their foundation of pictorial representation was fairly traditional.

The major motif of his projects has been the human figure. He sought to express formal and pictorial statements through depictions of generalized and objectified figurative images instead of realistic portrayals of a personality in any detail. While spending over a year in a full-body cast in an intensive-care unit, he underwent seven major surgeries. The aftermath of that traumatic accident underpinned for an extended period the major theme of his art. This was how the Roentgen's Garden series came into being. At the time the artist stated, "The moment I saw the X-rays of my mangled body, I was overwhelmed by despair, thinking I was no longer capable of anything, but then I realized that the patients undergoing X-ray radiation did not give up yearning for life even when penetrating into its cold, dismal shadows." In 1995, when he had managed to recover and get back on his feet, he revealed a novel style of artwork involving fresher and more innovative techniques than his earlier conventional medium of traditional painting using paper, brush and ink.

His innovative method stands out for its materials. He perceived X-ray images as pictorial, so he started to use the films in his work. His personal pain was transferred onto his paintings. He had been filled with fear every time he saw an X-ray of his bones, and those films were reassembled to create works of landscapes and nature imbued with an Asian ambiance. He exhibited this series at the Kumho Museum of Art, and he presented it as a "project about the boundary between life and death, and an exhibition that transformed deep sorrow into art through X-ray films." As demonstrated by his remarks, Han expanded his artistic horizons by making use of the trauma (wounds) he encountered at the brink of death and agony. The works in the Roentgen's Garden series raised critical acclaim in art circles; their appreciation of his efforts had dual implications. One reaction applauded that he had daringly surpassed the limits of conventional materials, including paper and ink, in the genre of Korean painting. The other claimed that he not only opened a new world of light by using X-ray film as a material, but also expanded his artistic territory from two-dimensional drawings to installations. He cut and pasted exposed X-ray films to create images of flowers and birds, and vividly projected them through LED light boxes. These X-ray films, so suggestive of death and injury, were transformed into images of plants, flowers, stems and leaves. Those shapes then eventually emerged in reverse, the blossoming of flowers symbolizing healing and life, which he considered to be the ultimate destination for every artform. Shapes that appeared to be fine blood vessels in the X-ray negatives became film objects in his hands, being reborn as pale yet brilliant flowers.

Ki Chang Han did not remain fully satisfied with these experiments and continued to test new materials beyond X-ray film, using metal staples as if they were brushstrokes. Han produced traditional landscapes by embedding countless surgical staples into a canvas. All of his previous physical suffering entered his work as motifs and themes. He bound the canvas with compression bandages, and placed skin staples as if they were drawings, reinterpreting the masterpiece Sehando (Winter Scene) by Jeong Hui Kim, a prominent Korean scholar and calligrapher from the Joseon Dynasty. The Scenery of Composition series from 2007, expressed different images of the East and the West within a single panel, presenting twin contrasting images of tradition and modernity. In this series, he expanded his subjects to include flowers, birds, landscapes, figures, and urban scenery, which were painted in colors on X-ray films. In addition to these motifs, he blended traditional patterns borrowed from folk paintings?flowers, deer, and turtles?with automobiles and images from daily modern life, opening up a further horizon of imagination in his paintings. Since the Scenery of Composition series, which experimented with a new pictorial world using X-rays, Han transformed X-ray film into a message of hope and healing in the face of death. After the series, the artist combined skeletal images from X-ray photos to describe traces of life and death more clearly through images of mountains, horses and flowers. This can be interpreted as a healing of suffering, the artistic will to shuck off suffering through a ssitgimgut, a traditional Korean purifying shaman ritual for the dead.

His subsequent experimentation passed beyond floral images. In a solo exhibition at the Hakgojae Gallery, Han showed dynamic moving images of horses using LED, demonstrating his potential to expand his expressive bounds. Commenting on this work Han said, "I found a message of hope in the fear of suffering and death." He still collects projected images in X-ray films, reformulated as art. To Han, his X-ray artwork is the language of life as salvation from the trauma of death and fear.

After some time, the shadow of death and suffering expressed in flashy LED colors began to fade, and in his 2010 solo exhibition he again made use of landscapes as main motif. His return to nature likely indicates that the artist finds himself free at last, transcending suffering, conflict, and anguish. This signaled his release from trauma and the departure to another world. He once confessed that hope is not distant, but exists within each person's mind. His track record shows that he has journeyed past his history of pain and is now approaching his canvas filled with the message of life. His modest hope is that "the viewers can relieve pain or suffering from my paintings."

His art originated from tragic wounds, but he turned it into a ritual of healing. He continues to seek out artistic existence and explores cultural meaning by collecting traces of deep wounds borrowed from X-ray photos and converting the original images into unique contrasting images, such as existence and the world, reality and imagination, and the real and the ideal. This is the artistic glory emanating from the wounds of his works. In this sense, his work is worthy of sincere appreciation.


more
The Beautiful Garden of Roentgen (In connection with private exhibition of Ki Chang HAN)
Ki Chang Han works on X-ray films. He has obtained the X-ray films by handing around hospitals. He gets them difficultly some times and easily other times as if he collects the inventions of Roentgen and collects the already dead images as if he embraced the traces of the wound of many men and animals. The images inside the physical bodies drawn with colors having the strong permeability look pale as if they had already lost the liveliness. It is the reality of the inside of body to take picture to cure through finding out the diseases and wounded parts but it is not easy to find out the significance of the cure in the castoff X-ray films. But Han hugs such castoff films again. For it is the memory filled with the pains of sickness and with the hope of cure for all the sick persons. What do we desire at the moment when we lie down on the X-ray bed and the whole body is scanned only bones being remained? ... With such echoing and thinking. X-ray films which are collected like this are adhered onto the panaflex cloth which is used as advertising plates. And after opaquely coating on it with aryl, scoop out with knife the outline of new image. One the whole, the outline of new image is the figure of beautiful plant. Not known flowers, flower buds, thin branches and hang down grasses make white shapes.

Multishaped X-ray films are adhere again to the white plate like mosaic. Finger pictures, animal head pictures, backbone pictures, the pictures showing the iron stuck in bone, the pictures showing crumbled bone and the pictures showing the transformed regions of body are being made again into the figures of beautiful plants. Subsequently, make form of advertising plate which used fluorescent lamp by this screen. When electricity is given after putting the fluorescent lamp into the place, X-ray films receive the ray to show up the shape. And then finally, there is the finishing work giving the effect to the adhesion of X-ray films and making the ray spreading up the picture look more soft. Shallow matiere effect is being made above the screen making warm are entirely.

On the wickedness and chilliness of X-ray, we see the immerge of the reserved death of alive men and the lonely and ill luck of lively things having only bones. Everyone who has the experience of taking X-ray films might feel the same. We should do as we are told by the X-ray technician asking us for breathing and stopping breathing at the X-ray room. At that moment, all should be dead for while. Of course, the X-ray technician desires to get the exact and best films but it has become one of symbols. And yet, we desire, penetrating the image of death. We are to cultivate our willpower for living by seeing such chilly shadows. That is why Han gathers the shadows of the haggard death longing for life.

Many injuries adhere to the shadows are patted and embraced by his hands to the born again. The pictures which were made in hospitals and abandoned by them are born again as light and are formed as beautiful flowers, plants and landscapes. The scene reminds us of the garden with beautiful and brilliant atmosphere at moon night. Perhaps it seem they are going to give the gift of the garden to Roentgen, and invitro of X-ray. Maybe it can be possible.

The image of the flowers and the plants in garden are very rhythmic and line-oriented, and are drawn with the dynamic feelings having not so strong movement. So delicate taste and formative freshness are displayed at the same time. Especially, we can have the bigger delightfulness in the effect of the beautiful transformation of X-ray films and humorous revers turn.

The gloomy atmosphere is removed by humorous wit. In this sense, the effect of reverse turn will be the target which all arts are heading for. Han seems to concentrate not only on formative aspect but also on certain cultural theory.

The work to survive the abandoned wound and yet surviving like that is already surgical plastic or orthopedic type, and suddenly they are the shape of beautiful flowers and plants, but it can not help containing cyborg significance.

Nevertheless, the life-power still remains. We think this kind of course seems to make the work of Han more concrete and true. X-ray of Roentgen and its shadows that were born again in nearly cyborgshape.

Now that they sing for another life, it must be beautiful again, isn't it? Han was majoring in Oriental paintings, but he is a painter who did not put a genre (a style) restriction in his work. What is more, we can see his thoroughness and faithfulness as a painter in view of the fact that he keeps experimenting in the various materials techniques in order to brake away from the material boundary which the Oriental paintings have.

But what is important is that such aspect of his starts from the posture always trying to be near the life in the long run.

When he painted the anonymous portrait by the fresco method which is the key technique of his wall pictures work, when he made to image of plastic nature through X-ray films like to exhibition this time, it is said he would give the life surrounding himself at all times. It is easy to know that the experience of recovery struggle for one year and half in the bandage of the whole body due to the fatal traffic accident in early 1990's has something to do with the work this time.

His own living is being supported by the plastic surgery, the technique of plastic connecting and assembling of bones and bones, the vanished bones are replaced by the alien substances, the exchange of warm talks and understand one another. He is very well aware of such coexistence and believes that without all these mutual help, the life becomes difficult, isn't it?

All lives are being sustained by the plastic techniques, aren't they? If so, the rules of the nature called life are already in the artificial condition called plastic surgery, aren't they?

In the sense of managing the life, we should live along with the factors which are in the opposition to our life. So, the garden of Roentgen is beautiful.


Shineui Park(Art critic, Head professor of Dept. of Cultural Art Management, Graduate School of administration, the Kyunghee University)
more