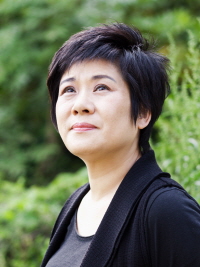 Juyeon KIM, Mudeung Museum of Contemporary Art
Birth
1964,
Genre
Installation
Homepage
Entire structure of being without excess or lack
I.
In the 'ecosystem,' all living and nonliving things on earth are 'interrelated' and 'in circulation.' In this ecosystem, all things, be they humans, insects, stones, books, grass, or trees, are but the 'inner beings of ecosystem.' Like other beings, humans are only permitted marginal use of the ecosystem according to principles of the system as they exist inside the system: humans are not privileged to control, adjust, or rule this system by their own will. Realization of limits and acceptance of the ecological paradigm, which imply criticism of anthropocentric civilization, prevail in the works of art by Kim Juyeon. What ecological meaning is implied in Kim Juyeon's aesthetic work? Kim Juyeon's aesthetic approach to realization of limits is not based on a demand for environmental responsibility in response to the pollution of the global environment and resource depletion or the ethics of joint responsibility accompanied by ethical enforcement or universality. In other words, the artist's approach is not based on awareness of danger in times of ecological crisis as encapsulated in Han Jonas's notion of ' heuristics of fear.' Although Kim Juyeon's work is closely related with the realization of 'expanded self,' she is interested in materializing the world as an interconnected and interdependent network rather than as a uniform presentation, starting from the primal perception of limits that humans cannot vest everything in human internality.
For Kim Juyeon, the world cannot be a mere innocent object, and it can neither be 'the outside' that is completely free from the internality of self-consciousness. Nor it can be reduced totally subjective idea or 'the outside' which was returned to internality through self-consciousness. Perception of the world called 'the outside' has become truly unified and self-fulfilling through separation and non-materialization. Most of Kim Juyeon's works are about the world which has become nothing but things exterior, things non-increate, and the world seen as accumulation of things separated. In other words, she wants to return the original world to 'us' through the ecological metaphor of nature.
The language Kim Juyeon chose consists of diverse interconnected predicates of materialization, rather than extremely artificial and abstract, and conceptual world that has replaced nature. Through her language, she projects reality which is historical, cultural, and ecological. The reality unfolds in a specific form of complex mesh symbolizing communication and cooperation with liquidity of space and flexibility of time, which allows the viewers to build a common foundation for reproduction of their lives in reality, rather than being controlled by the potential of and expansion by only the artist.
The existential and philosophical questions posed by Kim Juyeon's installations have very much to do with the productive life of a human being. This is because her work does not leave existential territory that draws new perception and emotion: the feeling of putting down roots within existence. Indeed it is. She describes the world with nature, nature being accepted as a 'world' of 'ours' - be it cosmic reality or everyday reality - as it invites us to perceive the entire structure of being in a new way, even without excess or the harsh isolation of existence.

II.
Then, what are the characteristics of predicates about interconnection and materialization as used in Kim Juyeon's installation work?
Space for the artist to reprocess reductive ideas about nature or scenery ? a structure made of 20,000 newspapers turned green by seedlings, a bookshelf filled with books covered with seedlings, earth planted with trees, a three-ton salt mass to be touched by the human body, huge pieces of clothing on which seeds are to be cultivated, and a sofa covered with cotton bursting forth with seedlings ? is neither separate nor non-material. Covered and hidden by formal, uniform, idealized, and familiar space, this space is unfamiliar and uncomfortable. It is private, multiple and not refined. This is a space bearing empirical and specific knowledge and responsibilities in place of spaces that are gradually deviating from the boundary of knowledge and responsibilities. In other words, her installation works are likely to use a domain of our body, nature, labor, and materials, that is, a space which enables us to contact with physical conditions that support our life and make our life sustainable, perceptually as a meeting place for us to stay only for a while, rather than using the domain or the space exclusively as a form of 'habitation.' Of course, we can relate the concept of space to other structures, but Kim Juyeon's installation work always reminds us of the fact that a space to be embodied materially in our lives is ultimately a part and true being of the planet earth.

At this point, particularly noteworthy is the difference between Kim Juyeon ecological works and feminist works. In feminist work, a model in relation with space often accords privilege to a space of 'habitation' and those basically established, while treating others not yet stable and settled as non-mainstream. Negative perception of space, which is expressed as a house shaking or a house with holes, creates a faulty perception about a special 'house,' which is neither shaking nor unstable, and perfect, and this perception creates a psychologically strong attachment to so-called 'space for women.' From an ecological perspective, hidden space also needs to be recognized along with wonderful looking space, and the questions of whether and in what situation the hidden space is recognized as wonderful need to be deeply considered. Unlike attempts to re-possess residential space exclusively and non-materialistically from a feminist perspective, Kim Juyeon's work is an attempt to re-conceptualize residence ecologically through actual building of relationships between spaces.
The greater the demands for more consumptive and unrealistic living conditions, the greater the distance between understanding on space and materialistic conditions. And labor which supports our life, traces of processes of nature, and ecological footprints will be lost. The non-materialization of culture is being pursued all the more fiercely, and we encounter Utopia and terrorism not infrequently in works of art which aspire to establish a new world. We can see something in common in these works: they all depend on sense of weightlessness and immateriality. As such, a new world or the freedom they aspire to create excludes space of nature and human life, and sometimes is considered a technique of metamorphosis created by excessive emotion about life and death.
Kim Juyeon describes the world with diverse predicates according to circumstance without excessive emotion, and without employing techniques of dramatic metamorphosis in a mystical way. The world expressed through diverse predicates can have meanings and values that are different from each other, as long the predicates need subjects in order for them (predicates) to exist. As the diverse predicates used in Kim Juyeon's artworks are based on nature to such an extent, common understanding of a world is possible even in specific historical and cultural cases. This common understanding of a world should be feeling and presentiment of life that does not actually terminate with death. The predicates used in works of Kim Juyeon express feelings about this life.
III.
Kim Juyeon has consistently worked on ecological installation works for ten years, since she held her first solo exhibition at 'Project Space Sarubia' in 2002 after she returned home from Germany. The method of work she chose was unlike the art of landscape, which reflected 'a world becoming one with nature' from a traveler's perspective, or environmental art which attracted interest as spiritually oriented art by residing in 'a world becoming one with nature,' to serve as an environmental wake-up call, improvement, or recycling. The choice she made was 'cultivation.' This is a process to perceive the entire structure of all beings in a new way by locating the birth and sustaining growth and circulation of life to themselves.
The artist aspires to attain understanding of the world through cultivation, without a consuming world, and intends to repeat the life-cycle of her work without offering her work as a product. It can be said that cultivation is for the artist herself to be a part of the world to which she belongs with herself being a medium, and that cultivation is to create conditions that enable communication between artists and viewers, work and life, and nature and humans. For Kim Juyeon, 'a world becoming one with nature' means neither becoming like nature nor self-examination through nature. Kim Juyeon is unlike other environmental artists in that she aspires to see a world as nature and nature as a world at the same time, although external appearances are different. Cultivation for Kim Juyeon is to develop ability to see different things at the same time, ability to see over there from here, ability to see before and after at the present moment, ability to see the same thing in a different thing, and ability to see different thing in the same thing, that is, it is to develop imagination.
As the word cultivation is connected with the word culture, the method of cultivation is cultural. Through symbolic and technical aspects of cultivation, individual living things, which are dying, are connected with the entire circle of life, which persists indefinitely. Cultivation clearly shows that life that seems never to end despite death is something to be handed down and acquired culturally from one generation to the next. Culture combines a unique simple thing or a user and the moment of use with other things or other users and other moments, thereby enabling the ability to go beyond the level of simple things or simple use of a thing at the given moment. As a symbolic and technical level of culture is delivered on the tide of communication, and transformed, which means cultivation for Kim Juyeon, simple things or users and the moment of use can be made longer, wider, richer, and closer. It is cultural and aesthetic ability to understand a world as nature and nature as a world at the same time. If we think this ability is irrelevant to the common good and usefulness for life or just secondary to life itself, we cannot predict the possibility of human evolution through life.
'Yisook' in Korean refers to a Buddhist term that means 'grows and matures in a different way.' Kim Juyeon's ecological installations ? Yisook I (2002), Yisook III (2004), Yisook IV (2005), and Yisook V (2007) series; Metamorphosis Ⅰ,Ⅱ,Ⅲ which forms close relations with improved or equal level movement; Thoughts on the Meaning of Life Ⅰ,Ⅱ,Ⅲ (2005); The Private Life of Plants (2005); and Remains (2002) consisting of a photo series, which is equally as important a method of work for Kim Juyeon as collection and cultivation; and Erasing of Memory (2004) which intends to heal distorted memories ? lead us to remember experiences of our existence as beings within a world, which we have every day, with rich nourishment and depth, and make us feel that we are connected by common narration.
Jung Hee IM (Art Critic)
more
Art, the Aesthetic Inspiration of Life Force
Juyeon Kim's recent artworks show an exemplary style of ecological art that uses nature as its ultimate inspirational source and material. This doesn't mean that we cannot find this nature-friendly tendency in her previous works. The eco-friendly philosophy based on reverence for life is a consistent keyword that has dominated her entire art world. Therefore, Kim's recent art needs to be appreciated not as a rupture from her past artworks, but as the maturity of her previous sprouting ideas.
Nature, a subject in her work, is different from materialism that uses nature just as a subject matter, and also different from the manifestation of natural thought that brings nature into its idea and recomposes it. However, she practiced living art to consider nature as a living creature and represent nature as itself. In her work, working together with nature means that she has lived in nature and produced works together with natural materials in that environment for a certain period without any contact with civilization. Through this working process, her work shows response to the circulation principle of nature that repeats creation and extinction. The entire work process is not distinct from the natural ecology as she took her subject from nature. On the other hand, "living art" shares its concept with eco-feminism and feminism, because it considers life itself as true nature. Of course it doesn't mean that life is the exclusive right of feminism, but it is true that substantial feminism seeks to identify itself in extensive symbol, sign and mythical source of life. As we can see here, Juyeon Kim's "living art" is a practice of naturalism that recognizes human and nature as a unity, a question about the general condition of humans whose nature is life, and most importantly it is a way to find a sexual identity of woman. This identity is a vegetal imagination compared with an animal imagination, horizontal order logic compared with vertical lineage, and practice of extrication of hegemony.
To certify this logic in her current works, we need to pay attention to the works she did in 2000 while she stayed in Weimar in Germany. She planted 2500 snowdrop bulbs alongside the forest path in the "Artist garden" at the Bauhaus University for the snowdrop project. The snowdrop is a flower that blooms in February and it is also the name of a project for bees living in the nearby Bee Museum that have just awoken from the winter sleep. It is a kind of process art as it continues for a while until the bulbs bloom and also a type of landscape performance, which means nature makes one aware of potential life through the process of planting, gardening and feeding bees. She also has produced a work in Gaerten der Sinne in Gehren, Germany. This garden is more like a forest and very much like a British garden, maintaining its wild nature as far from artificial handling as possible. In one of her works, Dancing trees, she has hardened the ground with a regular round shape and covered it with red earth and finally planted dead trees discovered in the forest. The shape was just like an exceptional holy place, sacred earth. In this nature work, the red round earth symbolizes a womb and the act of planting dead trees in the womb hints at the healing power of nature. Especially the red earth used to show her previous work represents the meaning of the immanent life of nature. It may result from the metaphor of blood soaked into the earth. In addition to the metaphor, the ground has a strong relationship with physical constitution, and physical constitution is not unconcerned with the hint of life. The combination of the horizontal form of round ground and the vertical form of dead trees represents the union of negative and positive. In this work, she is a shaman intermediating between earth and heaven.
In another work, long-term study, she observed the physiological function of moss to cover the red ground on a mossy tree lying on the floor and another function of shooting of scattered seeds in the ground unawares. As we can see from the title, time appears to be a practical rather than a simple metaphor in this sort of natural art. And like the natural habitat, human substance adapts to this time (slowly lasting time and circulating time even accepting death). On the other hand, this artist's other works are still very much related to nature. In other words, in Quillaja Ritus, by floating united medicinal herb bags on water in washbasins, the artist reproduces the old European ceremony of treating disease by washing the body with an infusion made from medicinal herbs. This work originally has the meaning that traditional treatment revives natural healing. In Holy water 1249, a work of a bottle filled with holy water, the artist gives a religious holistic meaning to the restorative power of nature. The ceremony and holy water or Quillaja ritual are related to practical desire, and there is a respect for nature sublimed to the religious stage. Regardless of the meaning of healing disease, the performance of washing the body itself symbolizes a kind of purification ceremony or of life reborn through the ceremony. The Bible and tribal myths give plenty of examples related to these ceremonies, and especially, all ceremonies related to holy water connect its meaning with the amniotic fluid containing life.
The distinctive character of her work met a turning point in Yisook (2002). In other words, symbolic forms, such as life as an original form of nature, a life of water and earth and sexual identity of woman which was implied in relation to the round womb have turned up at this point. The term "Yisook" originates from Buddhism and means "having matured as a different form". It may imply that ultimate maturity is not the one that can be shared but an independent notion, and it is also not a kind of thing that can be transferred. In that sense, a distinctive existence demanded in the doctrine of Buddhism is contrasted with a modern person whose independent life does not exist any more. Furthermore, the meaning of "Yisook" implies various existing customs of nature, the vegetal life principle compared with the animal life principle and sexual identity of woman with nature. In this work, she shows historical perspectives of nature through the growing process of the plant and links them together with the sexual identity of woman. Precisely, she presented the growing process by planting various plant seeds for a certain period on the surface of a white dress. As time flows, the dress changes colour from white to green and finally to brown as the plants die. Because they were planted at different times, there are green and brown surfaces growing together and dying together, and life and death cross each other.
Therefore, it is an example of the circulation theory of nature. The very first seeds have matured as a different form even accepting death. In this work, the dress is an extension of a female body, takes the place of earth to sprout the seeds and suggests that sexual identity of woman is closely related to the life principle. Another remarkable thing about this work is that it says a unique existence theory of living art. In other words, "living art" demands a botanical environment totally different from an ordinary gallery, such as a dark space, regular humidity, and the smell of plants.
In The planting project (2002), she made an installation of envelopes containing plant seeds (balsam, marigold, salvia, etc.) with pots. This is a kind of performance to make the audience get involved and it is a practice of expansion of herbal growing to the ordinary space.
On the other hand, in Yisook (2002), she sewed a fabric with fluffy cotton in it and put many bra-cups on the surface with an onion in each cup and let it grow. This is a stronger expression of sexual identity of woman as its entire shape brings to mind the image of a seed of a huge plant. However, depending on the view, it reminds us of a spermatozoon with tail. It shows dual possibility as one shape recalls both seed (female sexuality) and sperm (male sexuality). This dual possibility is amplified by representing a bust with a lot of bra-cups (woman) and a rising shape (man). It is now not a strange thing in modern art, especially in feminine art, to symbolize bisexual identity or neuter gender and numerous bust shapes sometimes cannot be distinguished from the shape of transformed protrusion.
Discovered object and transformed space
Juyeon Kim has also developed other series of works with a theme of the phase of nature co-existence in the city. She raises questions in these works about a life immanent in nature and its transformed shape, and discovered object and transformed space, a notion of the specific place. It is a tracing of degenerated form of nature from the natural world to city life, and its traces. And there is a notion of the specific place of a particular environment of the city in this work. For example, in city garden (2002), she takes notice of a shape of transformed nature in the city. She shows vegetables and flowers planted in various temporary pots, such as form board and plastic box. These pots show the parasitism of the city. Various abnormal pots replace the normal pots. These temporary pots explain a form of abnormal environment, parasites in the city and also play a role as a temporary garden, temporary park, and temporary nature itself. This work is regarded as a process for enduring natural life to settle in the changed city environment and also as a process to create a third-party environment transformed by the meeting of social environment and natural environment. In remains (Jamsil, 2002), a work for an apartment reconstruction project, she installed lots of different pots discovered at a construction site, such as terracotta pots, potting pots, and plastic pots, in the place of a sub-basement of a primary school in that area. She realigned the collected pots on the hardened ground. It gives a feeling of reproducing a field of excavation. The performance of hardening ground is practically for preparing a space for the exhibition, but at the same time it means a kind of purification ceremony, like washing the body. As it were, the location (transformed by the artist) is a place where discarded pots have been reborn as a totally different aesthetic object, a place where past and present cross, a point where existence and absence cross, and a scene of sympathy where the artist is involved in the residents' life. As we have seen so far, Juyeon Kim's work suggests a living art and realizes a possibility of eco-art. It is different from object art and conceptual art. It is also different from a human-centered understanding of the environment. Instead, as we see in her works, nature is the only subject in eco-art, and human is considered to be a part of nature, or at least equal in quality with nature. Life is a true nature for nature and human, and nature and human forms an element of circular structure of creation and extinction. Based on this theory, her works are represented as a process of recognizing that nature and human are co-existing things. In other words, uncovering true nature is recognizing the existence of the artist herself. In this practice of recognition, we can feel her respect for the life of nature.
Chung-Hwan Kho (Art Critic)
more