Viewing the Front Page Artwork of the Newsletter (23) 'Life Tree' by artist Seunghwan Ryu
2017-10-30 l Hit 444
Viewing the Front Page Artwork of the Newsletter
(23) 'Life Tree' by artist Seunghwan Ryu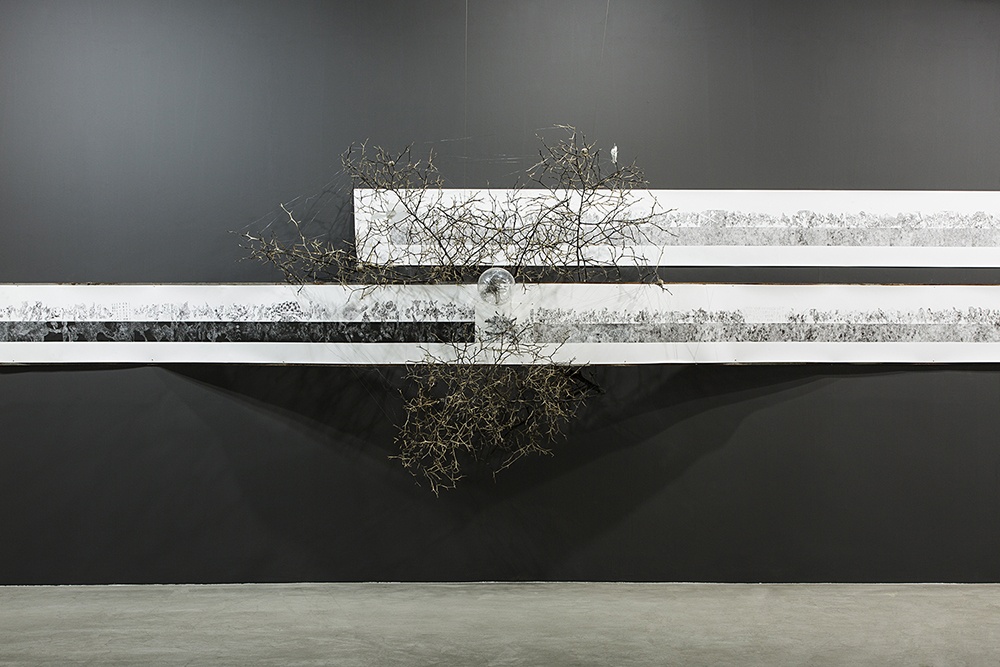 Seunghwan Ryu, Life Tree(detail), 2016, Mixed media, Variable size
Fall is a good season for contemplation. As we face the deepening autumn, I introduce the work by Seunghwan Ryo entitled, 'Life Tree,' which reveals the inner self of the artist.
The work consists of pieces that artist Seunghwan Ryu drew everyday for two years starting in 2010. It consists of 300 images and the total length of the work is as long as 84 meters. The photograph shows the group exhibition 'La Duree,' which was held at Wumin Art Center, Cheongju last fall and captures the installation of the 84-meter-long drawings with the thorns of a hardy orange tree.
The artist says that drawing is like being a truth-seeker who travels to find one's true self, escaping the cage called 'the body.' The artist draws everyday thoughts and everyday events large and small. For example, he creates his own symbolic code for abstract emotions such as sadness and joy.
The work began after artist Ryu's father passed away in 2010. Following his father's death, he started to think a lot about life and death. The artist realized that he cannot see loved ones forever and drew the emerging illusions and imaginings that came up during that time just like writing in a diary. After that, his thoughts continued to develop into visible and invisible worlds from the state of not being able to see loved ones.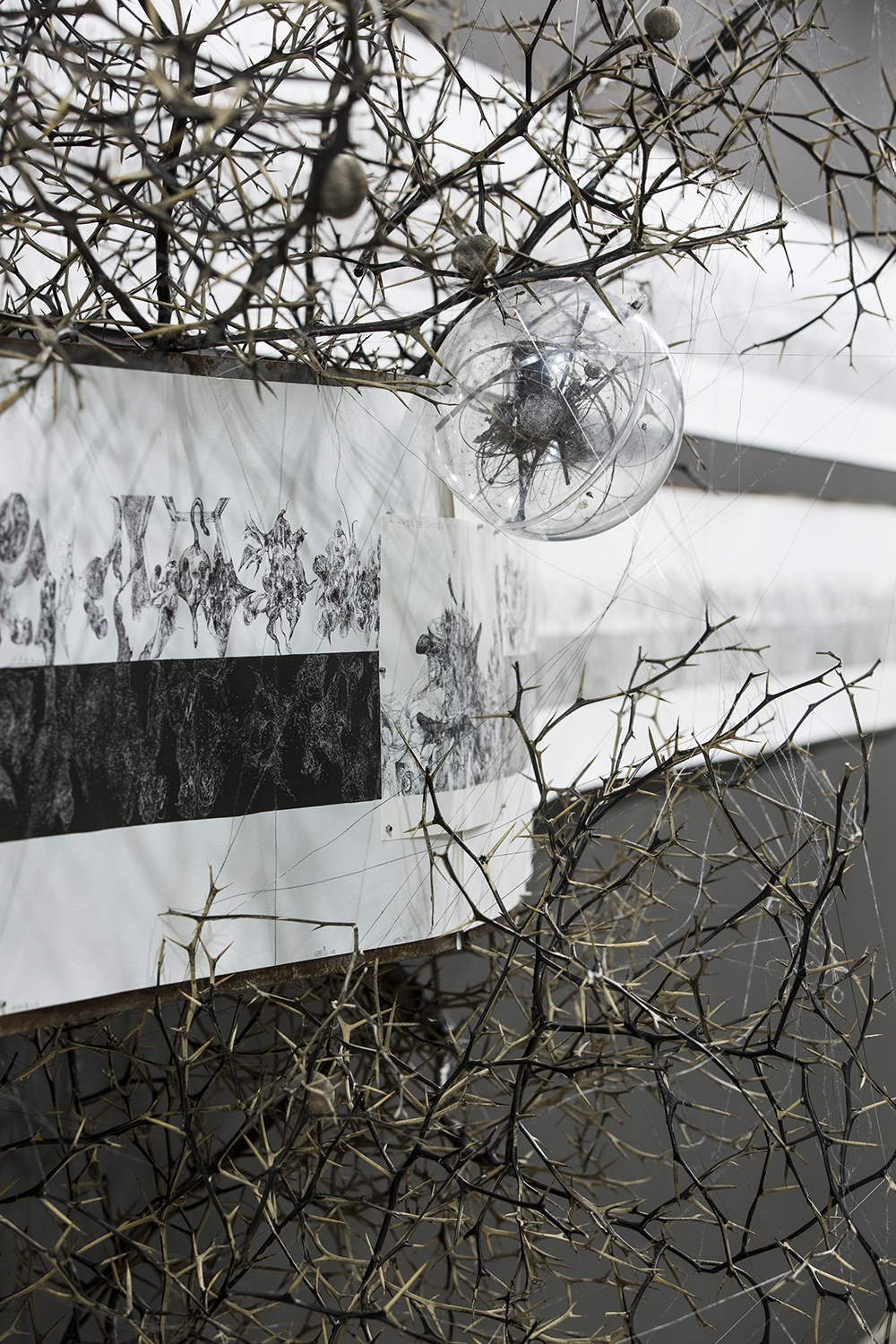 'Life Tree,' detail.
"The feeling of not being able to see somebody forever, the fact that they entered into an invisible world, makes the invisible world feel powerfully close. What is it that exists and is visible? I thought that maybe the visible world is just there and gone in a flash, and that our ultimate grandiose existence is something invisible. The absence of loved ones and invisible things can make a person feel like they are hovering. After that, I wondered, where am I hovering? The basis of the work is the feeling that I got from losing the people who supported me," he explained.
The artist usually depicts the unconscious or abstract world at the bottom of his work. However, in the case of this work, it was created with no distinction between top and bottom. In general he looks at his work from the ground up, however, this work was created with the feeling of zero gravity. A viewer can look down from above or look up from the ground.
One of the characteristics of this work is that it consists of pieces of paper so that the installation can be different from one exhibition hall to another. Generally, the artist plans out the space for his installations according to the characteristics of the exhibition hall three months before any given exhibition. The work exhibited at Wumin Art Center references a punishment from the Joseon dynasty in which a cage of thorns was created to trap guilty people inside and keep them from escaping. For this he used actual thorns from a hardy orange tree as a cage.
Not only that, he sometimes shows a portion of his drawings according to the scale of the exhibitions. This summer, he exhibited around fifty pieces of his work at Galerie Damdam Im Koreanischen Kulturzentrum in Berlin.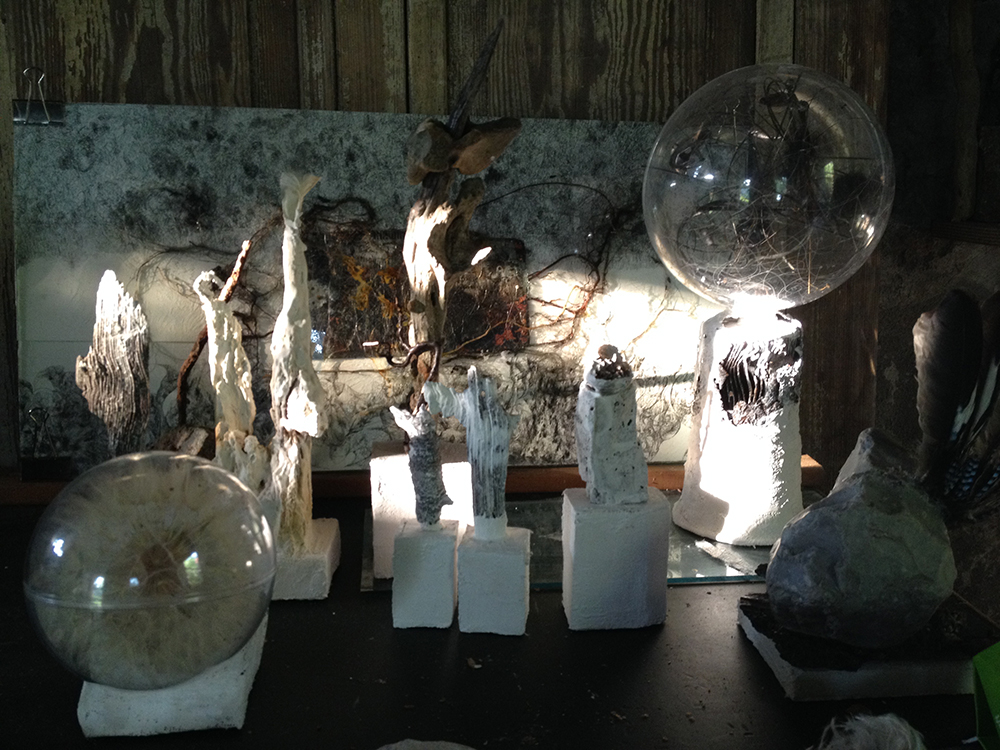 Image of the solo exhibition held at HEBA galerie BERLIN, June, 2015.
The artist continues to work on drawings and objets. In the solo exhibition held at 'HEBA galerie BERLIN,' which was held in June, 2015, he created a self-portrait using objets collected in downtown Berlin.
Meanwhile, the artist is planning a large-scale project. As he mentioned before, drawing is like a truth-seeker's pilgrimage, and now he has decided to take on his own pilgrimage.
"I am planning on conducting a large-scale project in two or three years. In the beginning of the project I will exhibit twelve large-scale works bigger than 10 meters square and then journey on following the Silk Road from there. I will travel with various people including contemporary dancers, documentary directors, chefs, and build relationships with local artists, working every day and then I will exhibit. That's the whole plan and I think it will be difficult." Even though he says it will be a challenge, he seemed excited about the prospect.
Korean Artist Project Team
2017. 11. 15. ⓒKorean Artist Project
Text and images may not be reproduced, reprinted, or redistributed without express consent.