Viewing the Front Page Artwork of the Newsletter (14) 'Unintended Loss' by artist In Kyung Kwon
2017-01-31 l Hit 8440
Viewing the Front Page Artwork of the Newsletter (14)
'Unintended Loss' by artist In Kyung Kwon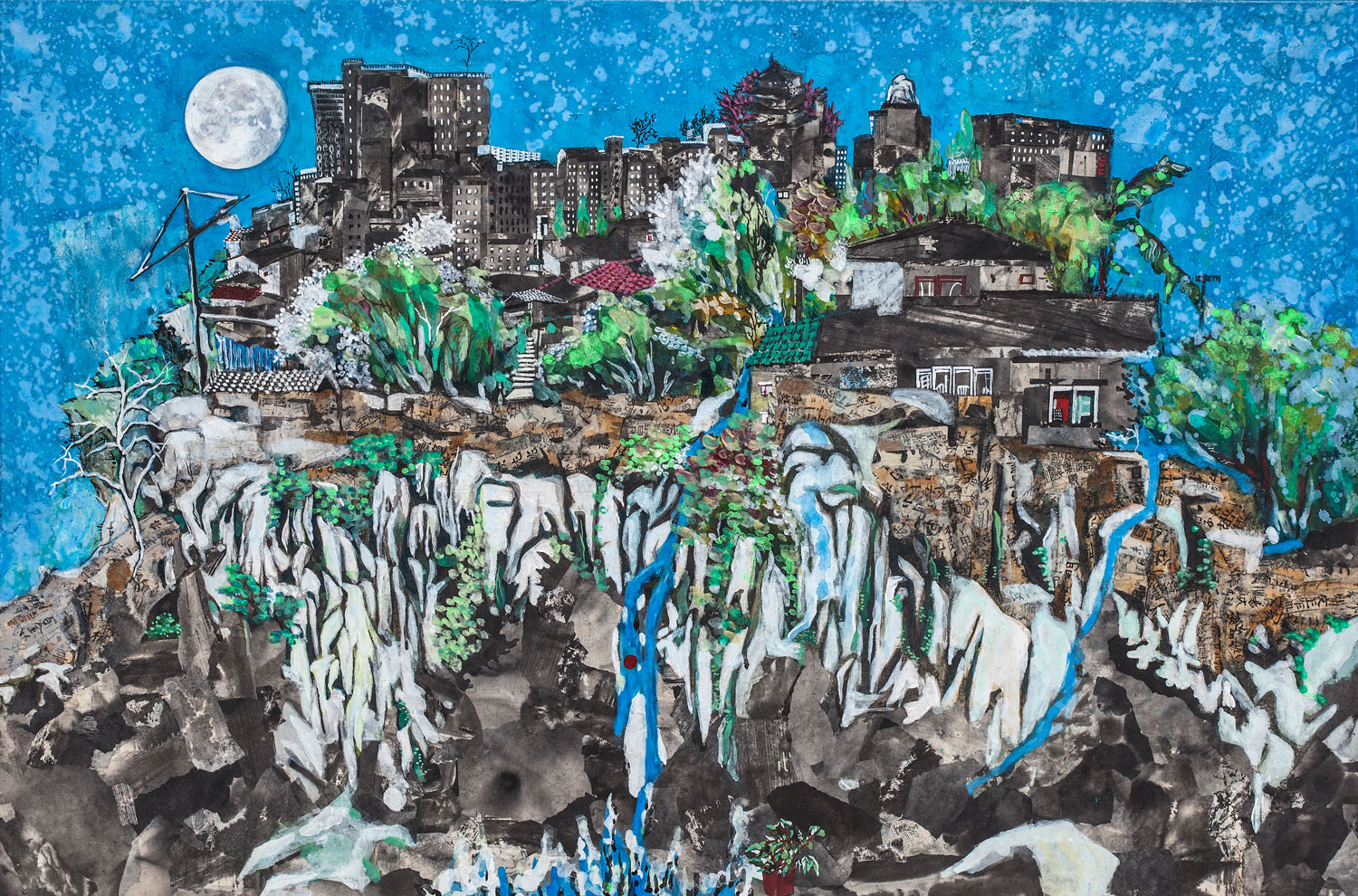 Unintended Loss, 2015, Collage of ancient books, India ink, and acrylic on Korean paper, 61 x 92.5cm
Artist In Kyung Kwon's "Unintended Loss" oddly resembles the present state of Korea. In her work, familiar things stand perilously over cliffs, not collapsing, but keeping their own balance. Trees grow out of rocks that do not seem to nurture even a clump of grass, so we can hope that this dangerous world may be affluent one day. The front page artwork of this month's newsletter was selected to be "Unintended Loss" by In Kyung Kwon in order to convey a message of comfort and hope to Korean society suffering from collective trauma.
"Unintended Loss" is a piece that was exhibited in her solo exhibition《Imagined Memories》held at Gallery Artbn in 2015. The artist deals with the psychological state that occurs in a room, house, or specific space.
The artist explained, "People sometimes unexpectedly experience trauma or feel emotionally uneasy. They like to make things and escape into their creations when they feel a sense of loss or depression. I created the work after observing the process of healing from an unexpected sense of loss; people create an object or a space and form memories out of it."
The creation of the work happened naturally while In Kyung Kwon was watching her younger sibling who suffered from childhood aphasia. "My sibling used to go into a room, his own space, to obsessively give himself over to an object, or to look in the mirror and think about his own world. From observing my sibling's behavior, I came to think about the sympathy between a space, place, and human being and the psychological state that arises from that relationship. I assume that not only my sibling but also other people are reluctant to expose some parts of themselves to the outside world," she explained to reveal the background story of her work.
In her early years, the artist painted the exteriors of buildings rather than their interiors, and tried to remove human emotion to observe it objectively. The artist explained that she now concentrates on, wonders, and thinks about the insides of spaces. Because of that, we can find objects that feel human, and places we have come to know and be familiar with through her work. The world of "Unintended Loss" is poised on a cliff and looks like it could be in danger. There is an anxiety that the world may collapse at any time. However, it gradually spreads its roots onto the cliff and becomes solid eventually.
These days, the artist is busy working to complete a large piece at 4 meters across. It will be installed at the newly opened Jeongneung Station and is based on "Heterotopia": the concept from French philosopher Michel Foucault. The artist explained, "Utopia is a concept that describes an ideal world outside of reality, and Heterotopia is a utopia in reality. My work is a mixture of places in the Jeongneung area where my work will be installed and lives in various places."
In the meantime, artist In Kyung Kwon will participate in the two-person exhibition《The room》at the Lotte Gallery in Gwangju until March 1.
2017. 2.15.ⓒKorean Artist Project
Text and images may not be reproduced, reprinted, or redistributed without express consent.