Eyes of a Curator, Tips for Viewing the VR Exhibition (4) Curator Hyun Min KIM from Cyan Museum of Art
2016-04-25 l Hit 598
Eyes of a Curator, Tips for Viewing the VR Exhibition
(4) Curator Hyun Min KIM from Cyan Museum of Art
Artist Ho Deuk, KIM's private exhibition, Wave of Mind, Awakening Moment - Feeling Space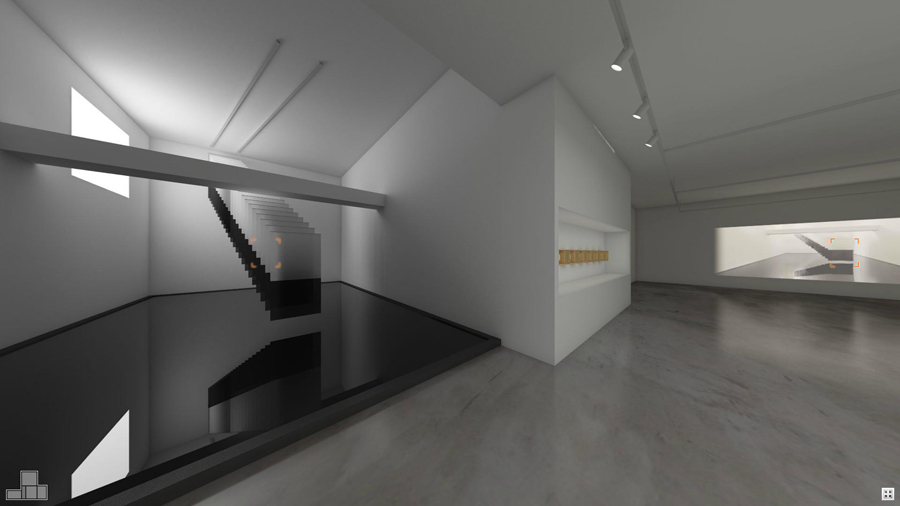 Captured image of 'Wave of Mind, Awakening Moment – Feeling Space' from the VR exhibition.
Artist Ho Deuk, KIM's private exhibition 「Wave of Mind, Awakening Moment – Feeling Space」 (referred to below as exhibition Wave of Mind) was held by Soyoung Park, an independent curator, at Cyan Museum as a special exhibition in 2009. The artist opened the exhibition after fighting a battle against cancer, and showed surprising work, totally different from his previous pieces. He requested that it be modified for the VR exhibition, since the private exhibition held in Cyan Museum at that time was monumental in his life as an artist. At his request, the exhibition was planned. Hyun Min KIM, a Cyan Museum curator, took charge of translating the offline exhibition into an online exhibition.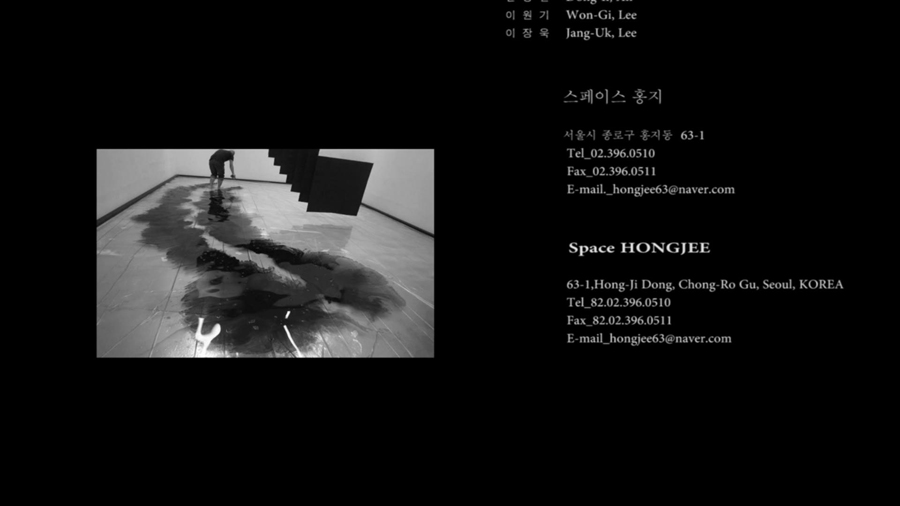 Captured image from a video included in the VR exhibition of artist Ho Deuk, KIM.
Hyun Min Kim, a Cyan Museum curator, vividly recalls the exhibition from when he was working as a curator at Cyan Museum in 2009.
He started by saying, "Artist Ho Deuk, KIM's exhibition Wave of Mind is remembered 'as a significant exhibition' for Cyan Museum, too. Audiences who came to see the artist's conventional work or traditional Korean paintings were confused by the unprecedented work and some even asked for a refund."
A view of the 'spreading' test during the special exhibition of artist Ho Deuk, KIM at Cyan Museum.
The relationship between Cyan Museum and artist Ho Deuk, KIM traces back to when the museum first opened in 2004. The museum had just opened and started to build relationships organically with local and community-based artists. Artist Ho Deuk, KIM, who was teaching as a professor at Yeungnam University, was one of these artists, and formed a connection accordingly, then held a private exhibition in the museum. In the planning stages of the exhibition, he began his fight against cancer, and it was thought that the exhibition would be cancelled. However, the artist put all of his effort and energy into this work and was able to show it. The exhibition 「Wave of Mind, Awakening Moment – Feeling Space 」 was held as a result.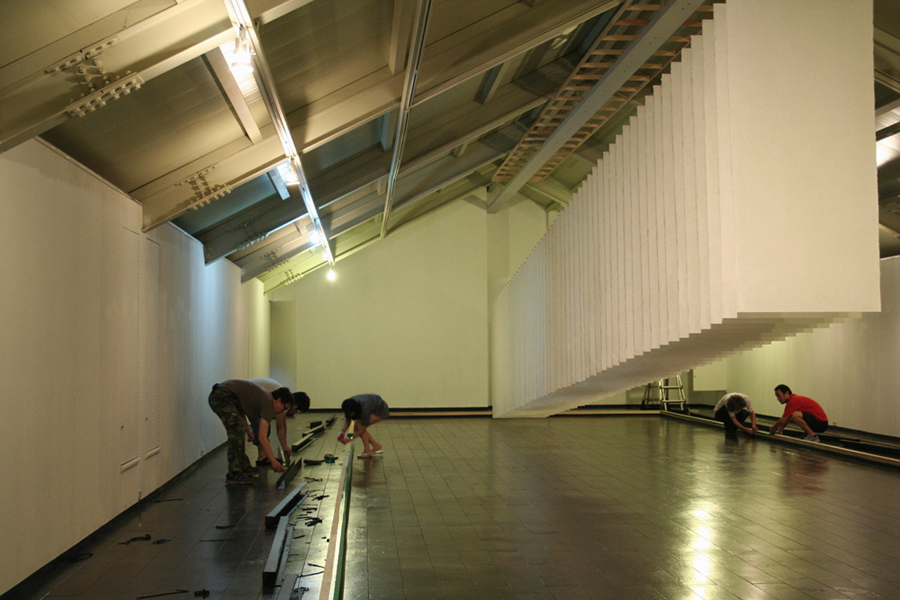 Cyan Museum staff who were dismantling a water tank to reconstruct, due to a repeated water leak during the special exhibition.
Museum members were also flustered by his new work. "Ho Deuk, KIM was an artist who had been trying to break tradition and show unconventional brush techniques. However, his work sits not far from the realm of Korean painting's use of materials: paper, pens and ink. His work had depicted thick and powerful columns, which recall the theme of 'the origin of immeasurable primitive life' or '人'- like shapes by establishing two columns. He had tried to express traditional Korean paintings in a contemporary manner.
"However, in this exhibition, the artist created installation work using space, instead of using brush strokes on paper. Though people who expected conventional work from the artist were divided into groups who either liked it or disliked it, what is clear is that his new work broke through the stereotypes of Korean painting.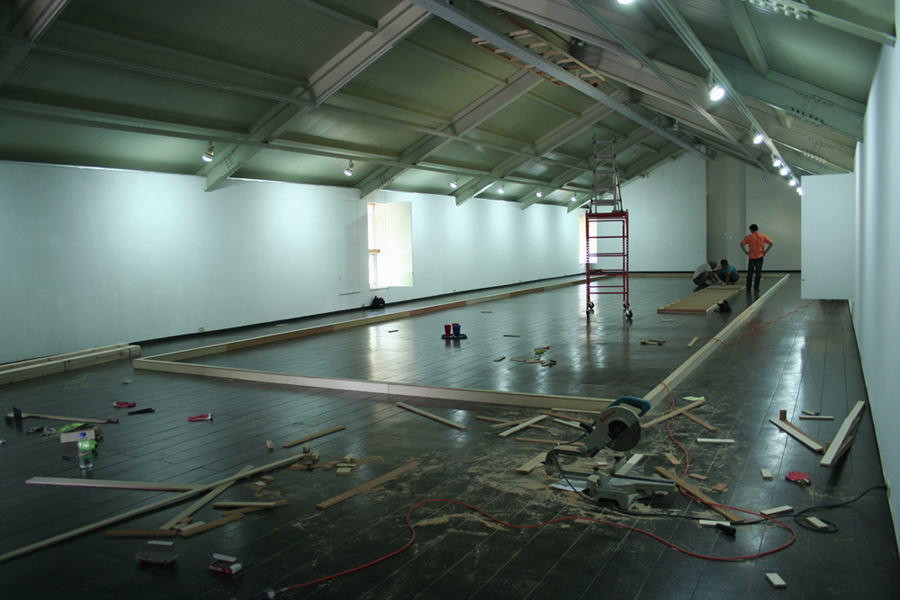 An image of building a water tank, which contains ten thousand liters of water.
"Setting up the installation was another ordeal. The artist wanted a space that blocked light completely and filled the floor with ten thousand liters of water. Even the artist himself hadn't done it before, so the exhibition hall was shut down for a whole month in order to install the work. "I can assume that the artist was not sure whether the installation could be realized or not, since he performed a traditional ritual with a pork head to pray for luck after setting up the work."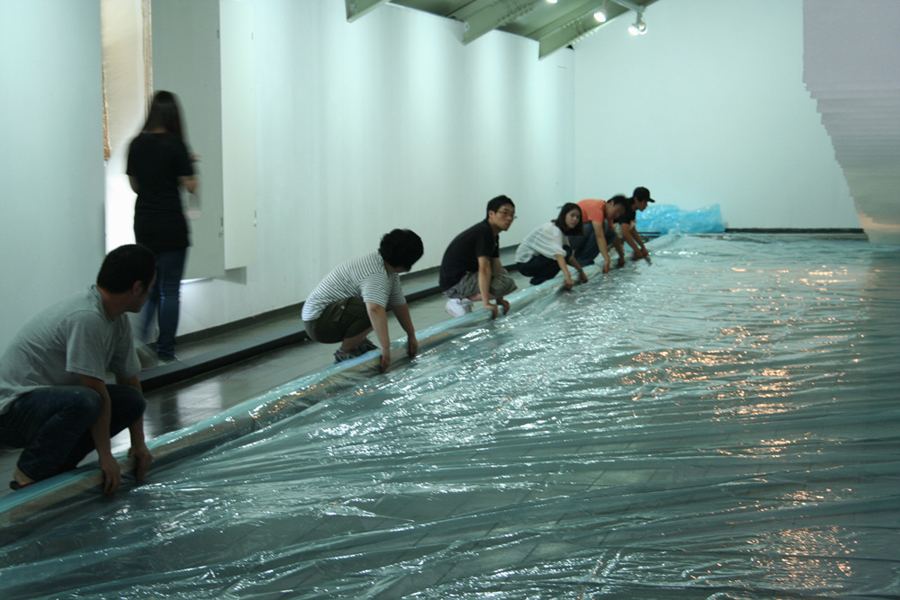 An image of constructing waterproof cloth for filling the floor with water.
"As one of the hands–on workers, I admit the exhibition was very hard to be realized. Therefore, I didn't know what to do when I first heard that I needed to translate the exhibition into a VR version. That is because the main work of the exhibition 《Wave of Mind, Awakening Moment – Feeling Space》 was an installation, and each of the elements; the fine movement of water filling the floor, the delicately spreading scent of the ink, and the Chinese drawing paper faintly vibrating according to certain movements from the viewers, all need to be felt in order to completely experience the work.
"Even though information technology has evolved rapidly, it is limited in how it can show those subtle movements. Nevertheless, the artist requested that the installation work be adapted into a VR exhibition, since his other work is easily accessible on the Internet. I was very flustered by his request."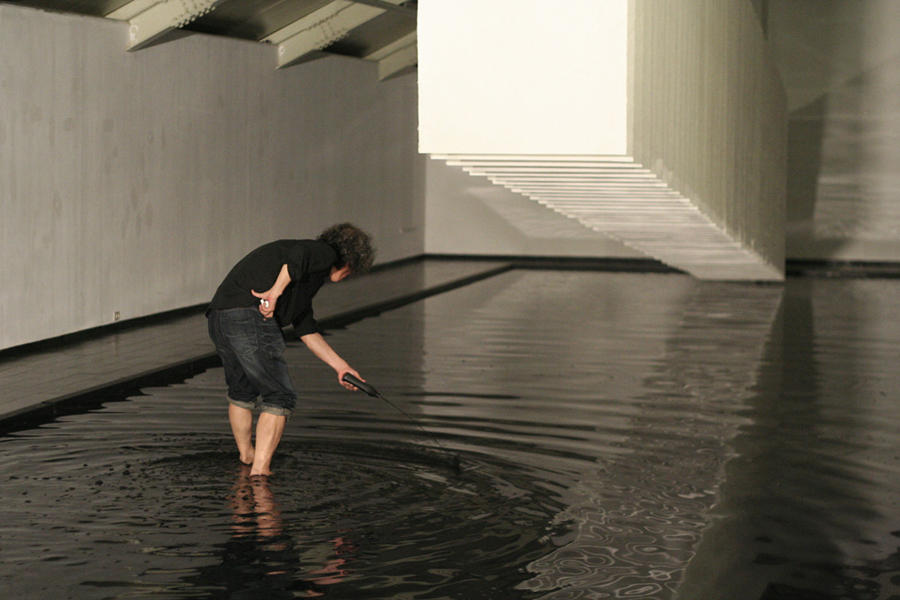 Performance image directed by artist Ho Deuk, KIM himself.
"For these reasons, the video plays an essential part in this VR exhibition. In the video, which lasts over nine minutes, there are images of 《Wave of Mind, Awakening Moment – Feeling Space》 from various angles. It shows images of Chinese drawing paper covered in ink, and dropped, creating waves on the floor in the original exhibition hall.
"After about seven minutes, it shows the process of the installation and an opening performance with the artist. The performance shows the artist going inside a water tank and writing certain letters or drawing certain forms whimsically and repeatedly, and walking in the tank to create waves. At the end of the performance, the clean water becomes dark, spreading the smell of ink throughout the hall. This opening performance is a must-see display, since it is not easy to witness in exhibitions."


Images provided by curator Hyun Min Kim
2016. 4. 29 ⓒKorean Artist Project
All rights reserved
Text and images may not be reproduced, reprinted, or redistributed without express consent