Eyes of a Curator, Tips for Viewing the Virtual Exhibition (2) Curator Kang Jung-ha fromthe POSCO Art Museum
2016-02-22 l Hit 592
Eyes of a Curator, Tips for Viewing the Virtual Exhibition
(2) Curator Kang Jung-ha from the POSCO Art Museum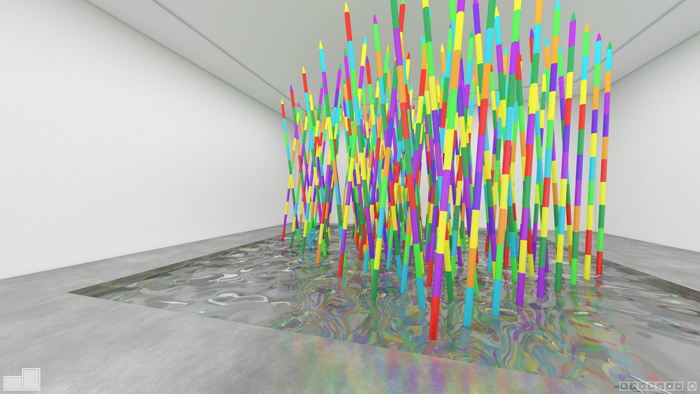 Captured image of work by the artist, Byoungho Kim, in the virtual exhibition.
Exhibition of Artist Byoungho Kim《Reflection of the World》
Artist Byoungho Kim has been using cold metals to reflect human life and social structures in his work. Uniquely, he introduced the concept of modules in his work, which are units used in architecture for nominal measurement and dimensional coordination. He creates his work by stacking up standard modules repeatedly, and because the work is made with metal, they seem industrial at first glance. However, the artist explained that the module signifies a person and the stacked-up structure resembles our society in this contemporary era.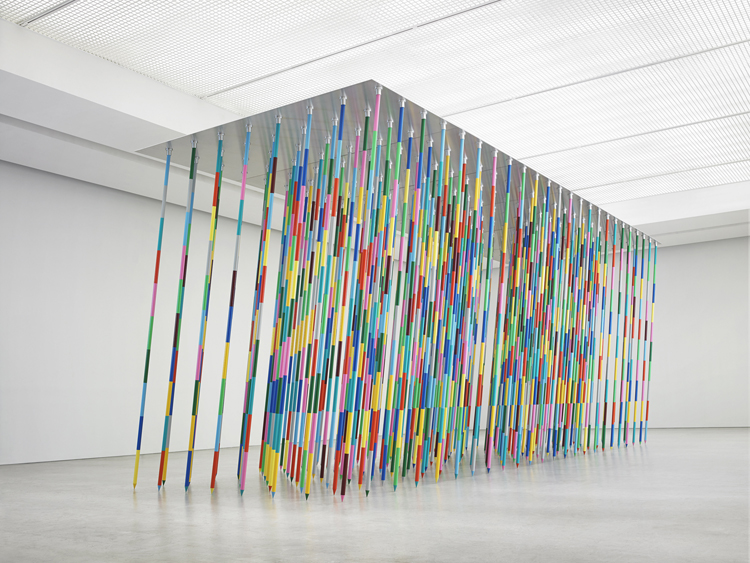 Garden, 2013, Aluminum, Steel, Powder coating, 750 x 250 x 280(h)cm.
Jung-ha Kang, a curator at the POSCO Art Museum commented on the exhibition of the artist Byoungho Kim by saying, "The artist Byoungho Kim has been dealing with metals constantly and our museum is managed by POSCO. I believe that is one reason we could collaborate together."She continued, "After talking to the artist, I decided to display a few pieces and to make each piece stand out, instead of fitting many works in the museum space.
"One of the advantages of the virtual exhibition is that an artist can push his or her original vision to the limit," she added. For example, his original work, 'Garden' (2013), was hung in midair in a gallery. But in the virtual exhibition, the gallery's floor surface was filled with water to add the feeling of floating above water for the work. His other work, 'Aero-Interface,' consisting of hundreds of pipes, was installed in a way to provide the feeling of it floating in the air in order to realize his vision for the piece.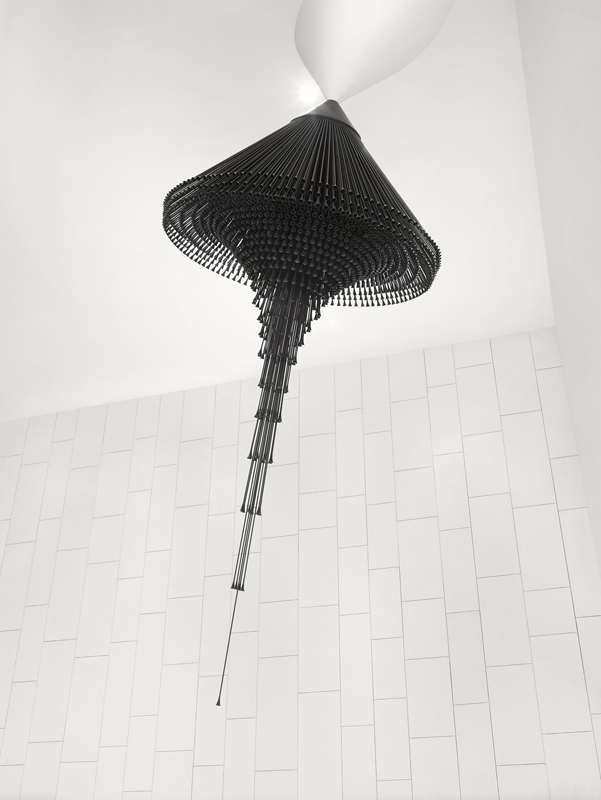 Aero-Interface, 2012, Anodizing on aluminum, Arduino, Piezo, 260 x 470 x 560(h)cm.
The title of the exhibition is 'Hanging Garden(The title of the exhibition in Korean)', a combination of the two words: 'hanging' and 'garden'. The word 'hanging' reveals the mental state of modern people who cannot settle down, but keep floating around. The word 'garden' symbolizes a place that our time, culture, sets of values, and art are all combined. Through the work, the artist visualizes the phenomenon of elements that construct human life being modularized,and shows how individuals are just one part of the modularized world and not special creatures.

2016. 2. 26 ⓒKorean Artist Project
All rights reserved.
Text and images may not be reproduced, reprinted, or redistributed without express consent.